Briarcrest Academy #3 (all novels are standalones)
Author: Ilsa Madden-Mills
Release Date: March 1
A sassy violinist who lives next door…
The rock star who spies on her...
And the one night she bares it all.
Life will never be the same in Tinseltown.
Vital Rejects front guy Sebastian Tate never imagined his YouTube music video would go viral, sky-rocketing him to acting success in Hollywood. Okay, maybe he did. After all, he's a cocky dude who knows he's hot-as-hell, and it was only a matter of time before his stars aligned.
But life in Tinseltown is never what it seems.
After being cheated on, his only rule to falling in love is simple: Keep Calm and Don't Do It. Spying on his mysterious new neighbor with binoculars seems innocent enough, but quickly escalates into an erotic game between two very unlikely people.
Twenty-year-old Violet St. Lyons is a world-renowned violinist who's lost her mojo on stage. She hides away in a Hollywood mansion, trying to find her way through her twisted past in order to make her future.
He's the life of the party with girls chasing him down for his autograph. She's the introvert with a potty mouth who doesn't even know who he is.
When they meet, stars collide, sparks fly, and clothes come off. Yet, giving his heart to a girl isn't Sebastian's plan; falling for a guy who craves attention isn't Violet's.
Welcome to Briarcrest Academy—Hollywood style—where sometimes the best things in life are
VERY TWISTED THINGS
.
5 sexy stars
At first I thought it was going to rip my heart out and stomp on it but then it got even better. It had me going from sad to happy to mad to happy to wanting to jump in the book and hug or punch someone. OH THE FEELS! Of course I loved the characters. It is Sebastian Tate's story and I have loved him from the start of the series. Even when he was a student at BA. He has grown up and is the sexy, smooth talking, rocker who happens to be the boy or man next door. He has his problems and needs work through somethings but that is what makes this story.
Violet or V is a complex character that has some serious issues but after what she has been through I can't blame her. She thinks she is weak and wants to be strong but what she doesn't know is that she has been strong the whole time. I fell in love with her and just wanted to hug her at the beginning and then jump up and down with her at times to celebrate her.
Also, in this one is my new found love from book 2, Spider. Can you say bad boy? He is a sexy, british bad boy rocker who we will learn more about in the next book but I love him already. I know he has some deep secrets and maybe a few (or a lot) of issues to work on. I know his story will be just as great as the others.
Now yes this is BOOK 3 of the series BUT you can read each book as a standalone. Trust me you will want to read them all. It really lets you get to know all the characters but you WILL NOT be lost if you start with Very Twisted Things. Such an amazing story and I can't wait to see what Ilsa will come up with next.
New York Times and USA Today best selling author Ilsa Madden-Mills writes about strong heroines and sexy alpha males that sometimes you just want to slap.
She's addicted to dystopian and all things fantasy, including unicorns and sword-wielding heroines. Other fascinations include frothy coffee beverages, Instagram, Ian Somerhalder (seriously hot), astronomy (she's a Gemini), Sephora make-up, and tattoos.
She has a degree in English and a Master's in Education.
When she's not pecking away on her computer, she shops for cool magnets, paints old furniture, and eats her weight in sushi.
Social Media
Facebook:
https://www.facebook.com/authorilsamaddenmills
Twitter: @ilsamaddenmills
Instagram:
http://instagram.com/ilsamaddenmills/
Website:
http://www.ilsamaddenmills.com/
Instagram:
http://instagram.com/ilsamaddenmills/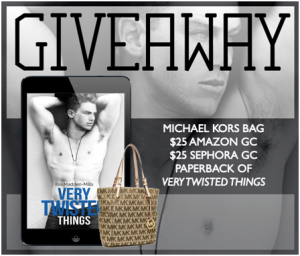 a Rafflecopter giveaway
Receive a FREE Briarcrest Academy novella ($2.99 value) plus get insider info and exclusive giveaways!