Hunter Dennison has been an overachiever in all aspects of his life. He knows what he wants and goes after it, and he intends to follow suit in his love life with the young and beautiful Molly. His patience is at its last resolve as he waits for her to come of age, but finally the time has arrived, and he prepares to tell Molly how he feels.
What he doesn't know is that someone else has set their own selfish agenda into motion, wreaking havoc on Hunter's intentions and his confidence in Molly's character.
Believing the vicious lies, Hunter veers off his planned path. He finds solace and comfort in another's arms, never realizing that he leaves in his wake a devastated Molly.
However, fate cannot be fooled.
Now, twenty years later, they both have settled into their own lives in Clearwater Falls. Hunter intends to rectify the past by letting Molly know that she is the one he wants now, just as he had wanted then.
Can passion all these years in the making overcome the weight of regret that they both carry? Or will the price of their previous mistakes leave an insurmountable divide in their chance at forever?
WARNING: Recommended for adult readers (18+) only. Mature themes, strong language, and sexual content.


This is a second book in a series but you could read it as a standalone. Not sure why you would want to since all of her books are great. She has grown as a writer from her first series and moved on to this new one. Not saying she will not be going back to the Hamden Series but she has just started a new one and it is wonderful! The characters are all lovable and she really brings them to life. I love the way W. Ferraro can make you think you are right there watching everything that happens unfold before your eyes. She can actually take you to another place. I felt like I was friends with all of the people in this small town she has created. At times I didn't know if I wanted to slap or hug Hunter and Molly. I loved both of them but at times they were both pigheaded. I felt bad for the lies they were told but also that they both believed them. The story was very touching and a great read. I was on a journey of hope waiting to see how their story ended and if they would finally get their happy ending. You should get the whole series and fall in love with all the Dennison's just like I have. Each character brings something special to the story and it just makes it a better story that is easy to relate to. Great job Mrs. Ferraro can't wait to see what you bring us next.
*** DENNISON SERIES ***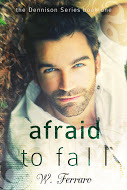 DENNISON SERIES, BOOK 1
** ON SALE FOR 99 PENNIES!!! **
I live in New England with my young family. I'm a stay at home mom to two very active children. For all of you who are familiar with the stress of this job, I decided to complete an item on my bucket list and write a book. When I'm not writing, you will find me cooking, reading, shopping or being silly with the kids. In my opinion, one of life's greatest pleasure is being able to get lost in a book.